When you suffer a traumatic brain injury…
When you suffer a traumatic brain injury as a result of someone else's negligence, whether it be from a car accident, a slip and fall, medical negligence, or some other trauma, it is important that you engage an experienced brain injury attorney (aka neurolawyer) who will understand how to prove your brain injury and/or brain damage to an insurance company or a jury.  Brain injuries and brain damage are different from a lot of other injuries, such as fractures or orthopedic injuries, because you cannot see them.  However, there are numerous items, including the below, that will assist in establishing and proving a brain injury and brain damage.
1. Early Diagnosis/Symptom Presentation
One thing that we look for when we are pursuing a traumatic brain injury case is how early after the incident the client was diagnosed with a brain injury and/or concussion.  Often this will occur at the first doctor's appointment a client goes to after the incident, whether it be the Emergency Room, an Urgent Care Facility, a Primary Care Physician, or some other medical provider.
If there is not the diagnosis at that first visit, we will look to see if there were concussion symptoms listed in the medical records.  There are times where we see that the concussion or brain injury was undiagnosed but was there.  We also have seen that the symptoms got worse in the first few days to weeks after the incident.  We look for symptoms as reported in the medical records.  There are numerous concussion symptoms, including as referenced in the below chart: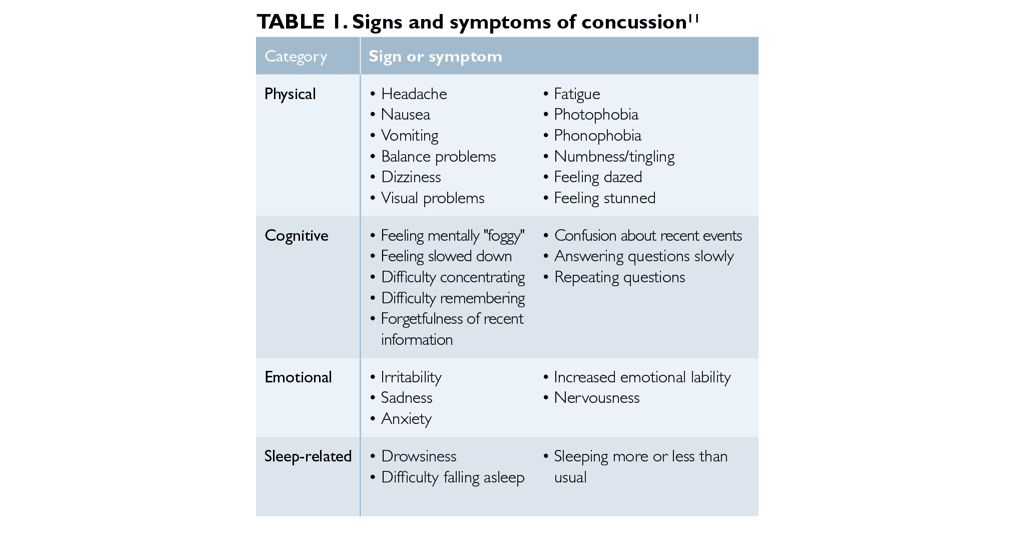 Make sure that you know the symptoms and are honestly and fully expressing them to your medical providers.
1. Ongoing Treatment
Most mild traumatic brain injuries and concussions heal, however, there are some that take weeks to months to years before there is improvement.  If you are one of the individuals who continue to suffer symptoms, then it is important for you to receive ongoing treatment for your symptoms from competent medical professionals who understand brain injuries.  These medical professionals should be geared to the type of symptoms that you are experiencing as no two brain injuries are alike.
In addition to the neurologist or other medical doctor that handles brain injuries, there are also various therapies that can assist you with recovering or minimizing your symptoms.  These therapies include: psychological, vestibular, vision, cranio-sacral, speech, cognitive, occupational, physical, etc.
2. Neuropsychological Testing
Depending on how your symptoms present, your physician, your attorney, or the insurance company may request that you undergo neuropsychological testing.  Neuropsychological testing is an in-depth evaluation of skills and abilities linked to brain function.  It measures such areas as attention, problem solving, memory, language, visual-spatial skills, social-emotional functioning, executive functioning, and more.  Neuropsychological testing can be helpful in understanding the deficits that you have as a result of your brain injury, what treatment may be beneficial for you, and link your deficits to the incident or accident that resulted in your brain injury.
3. Neuro-Imaging
Unless you have a brain, bleed or swelling, a normal CT Scan or MRI is not going to show that you have a brain injury.  However, there are imaging studies available that can assist with showing brain injuries.
Diffusion Tensor Imaging:  This is done with a MRI machine with special software that is particularly sensitive to damage to the white matter tracts of the brain.
Susceptibility Weighted Imaging: This allows the radiologist to see very tiny bleeds in the brain known as micro hemorrhages.
Neuroquant:  This measures the volume and structures of the brain and compares that information to a normative database to assist with diagnosis of neurological conditions, including traumatic brain injury.  This also can be taken early on after the injury and compare it to a later point in time to measure the differences in the brain for atrophy (i.e. brain damage/death).
4. Witnesses
It is important when proving a traumatic brain injury and brain damage to an insurance company, defense counsel, judge, and jury to have witnesses that knew you both before and after the collision that can testify and speak to who you were before versus after the collision, how you have changed, and how the injury has affected you.  These witnesses can be family, close friends, supervisors, co-workers, etc.
5. Past History
When looking to prove a brain injury and brain damage it is important to know what has happened in the past.  When we take on a brain injury case we order as many prior medical providers as we can, we order work history, education history, etc.  Knowing what the client's prior level of function was and his or her background is very important to establishing a brain injury, the impact that it has on the client, and can assist in understanding if there is something in the client's background that may be causing or contributing to the ongoing symptoms.  For example, if a client has a prior history of concussions, it is shown that repetitive concussions play a factor in prolonged recovery.  These are items that we need to know as the attorneys, so it is important to be as transparent and complete when detailing your past history.
If you or anyone you know suffered a brain injury as a result of the actions or inactions of another person, it is best to consult an experienced brain injury attorney.  Our experienced attorneys know what needs to happen throughout the course of your case to prove a brain injury and brain damage to maximize your recovery.  We work on a contingency fee basis, which means there is no legal fee unless we recover compensation for your injuries.